June is Men's health month, and here are a few suggested books to help you work toward a happier and healthier life.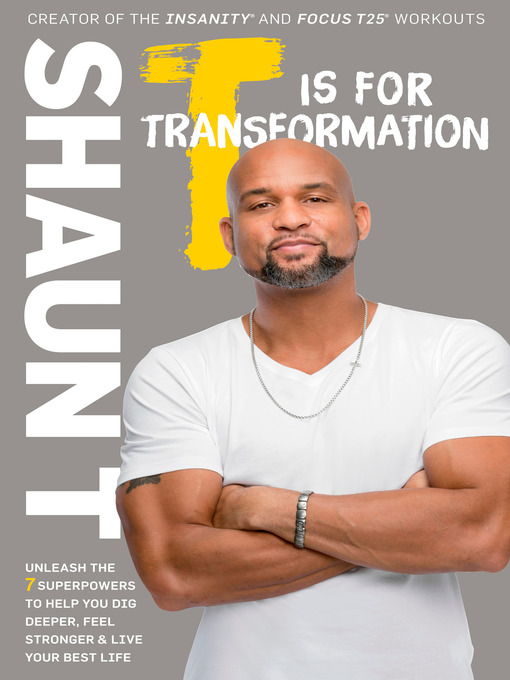 T Is for Transformation: Unleash the 7 Superpowers to Help You Dig Deeper, Feel Stronger, and Live Your Best Life
by Shaun T.
In T is for Transformation, Shaun T unveils the 7 transformational principles that guided his progress through life and that are at the core of his incredibly successful workouts. T is for Transformation is a motivational master class as Shaun shows you how to become more flexible and resourceful, give everything you've got, and, most importantly, trust and believe in your path to success. The only real obstacles in life are the mental ones, and T is for Transformation can train you to achieve astonishing results in your own life, just as Shaun T has in his.

Available in physical formats. Check availability in our online catalog!
Available as an eBook, check OverDrive for availability!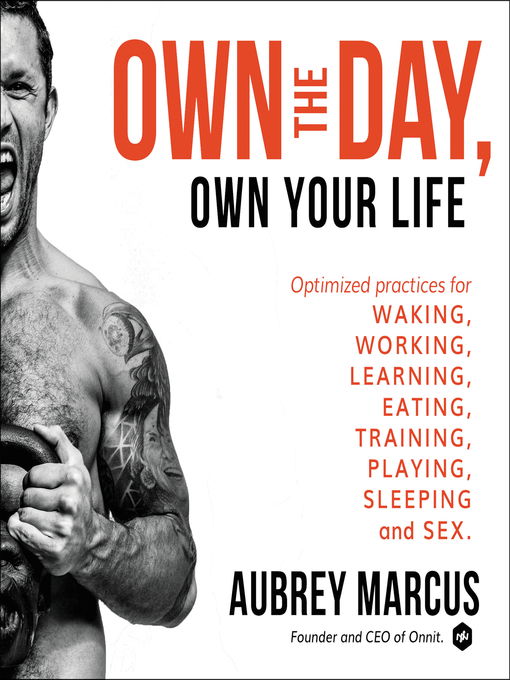 Own the Day, Own Your Life: Optimized Practices for Waking, Working, Learning, Eating, Training, Playing, Sleeping, and Sex,
by Aubrey Marcus
The founder and CEO of Onnit, the mega lifestyle brand and one of the fastest growing companies in the country, teaches us how one single day of positive choices leads to a lifetime of concrete strategies for better living, optimal performance, and a stronger mind, body, and spirit.
Human optimization thought leader Aubrey Marcus's personal and professional mission rests on a single question: How can we get the most out of our body and mind on a daily basis?
Marcus answers that question in Own the Day, Own Your Life an empowering handbook that guides readers to optimize every moment of the day, from waking in the morning, through work and play, until bedtime each night. With small, actionable changes implemented throughout the course of one day, we can feel better, perform more efficiently, and live happier. And these daily habits turn into weekly routines, ultimately becoming part of lifelong healthy choices.
From workouts and diet to inbox triage, mindfulness, shower temperature, and sex, this ground-breaking manual provides simple strategies for each element of your day. Drawing from the latest studies and traditional practices from around the world, Own the Day, Own Your Life delivers an optimization philosophy, including cutting-edge life-hacking tips, nutritional expertise, brain upgrades, and fitness regiments.
Own the Day, Own Your Life is a must-have "choose-your-own-adventure" guide for the everyman and everywoman--packed with pragmatic and effective strategies that empower you to enjoy your life, take charge of your health, and own the day.
Available in digital and physical formats. Check availability in our online catalog!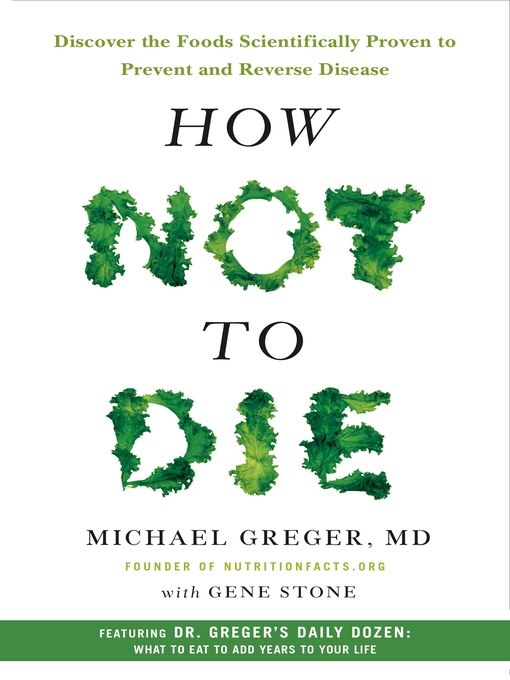 How not to die : discover the foods scientifically proven to prevent and reverse disease
by: Michael Greger
The vast majority of premature deaths can be prevented through simple changes in diet and lifestyle. Greger examines the fifteen top causes of premature death in America -- heart disease, various cancers, diabetes, Parkinson's, high blood pressure, and more -- and explains how nutritional and lifestyle interventions can sometimes trump prescription pills and other pharmaceutical and surgical approaches, freeing us to live healthier lives. The simple truth is that most doctors are good at treating acute illnesses but bad at preventing chronic disease. By following Dr. Greger's advice, all of it backed up by strong scientific evidence, you will learn which foods to eat and which lifestyle changes to make to live longer.

Available in digital and physical formats. Check availability in our online catalog!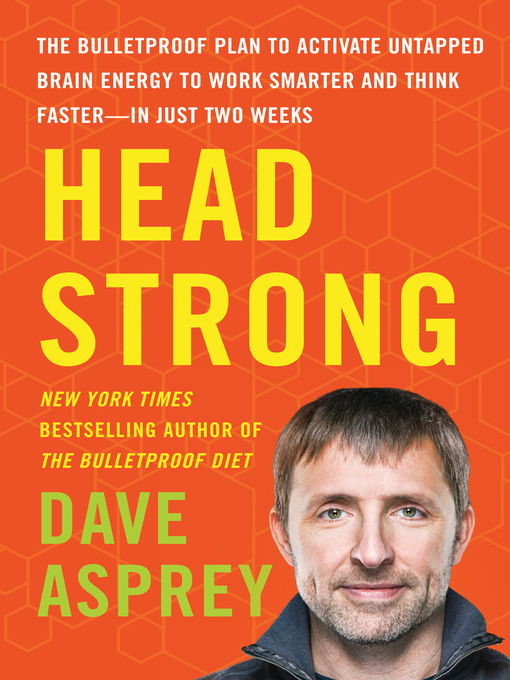 Head strong : the bulletproof plan to activate untapped brain energy to work smarter and think faster-in just two weeks
by: Dave Asprey
In Head Strong, Asprey shows us that all of this is possible--and more. Using his simple lifestyle modifications (or "hacks") to take advantage of how the structure of your brain works, readers will learn how to take their mental performance to the next level. Combining the latest findings in neuroscience and neurobiology with a hacker-inspired "get it done now" perspective, Asprey offers a program structured around key areas of brain performance that will help you:
Power the brain with exactly what it needs to perform at its best all day long Eliminate the sources of "kryptonite," both nutritional and environmental, that make the brain slower. Supercharge the cellular powerhouses of our brains, the mitochondria, to eliminate cravings and turn up mental focus. Reverse inflammation to perform better right now, then stay sharp and energized well into your golden years. Promote neuron growth to enhance processing speed and reinforce new learning--hotwiring your brain for success.
Asprey's easy to follow, two-week program offers a detailed plan to supercharge brain performance, including: which foods to eat and which ones to avoid, how to incorporate the right kinds of physical activity into your day, a detox protocol for your home and body; meditation and breathing for performance, recommended brain-boosting supplements; and how to adjust the lighting in your home and work space to give your brain the quality light it thrives on.
A better brain--and a happier, easier, more productive life--is within reach. You just need to get Head Strong.
Available in digital and physical formats. Check availability in our online catalog!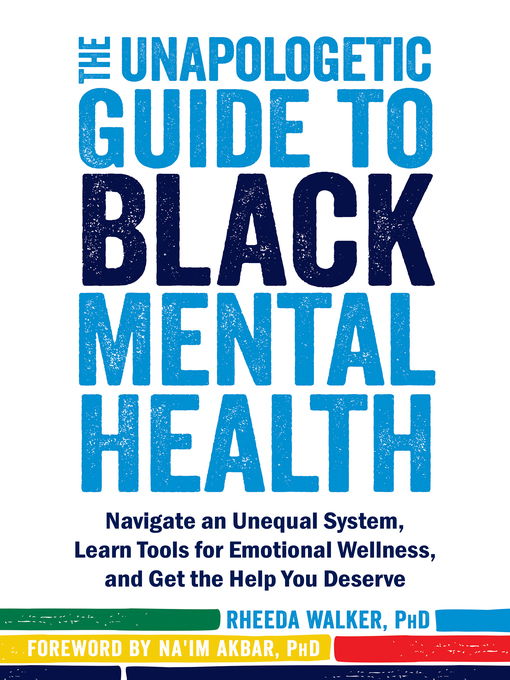 The Unapologetic Guide to Black Mental Health: Navigate an Unequal System, Learn Tools for Emotional Wellness, and Get the Help you Deserve
by Rheeda Walker and Na'im Akbar

An unapologetic exploration of the Black mental health crisis--and a comprehensive road map to getting the care you deserve in an unequal system.
We can't deny it any longer: there is a Black mental health crisis in our world today. Black people die at disproportionately high rates due to chronic illness, suffer from poverty, under-education, and the effects of racism. This book is an exploration of Black mental health in today's world, the forces that have undermined mental health progress for African Americans, and what needs to happen for African Americans to heal psychological distress, find community, and undo years of stigma and marginalization in order to access effective mental health care.
In The Unapologetic Guide to Black Mental Health , psychologist and African American mental health expert Rheeda Walker offers important information on the mental health crisis in the Black community, how to combat stigma, spot potential mental illness, how to practice emotional wellness, and how to get the best care possible in system steeped in racial bias.
This breakthrough book will help you:
Recognize mental and emotional health problems Understand the myriad ways in which these problems impact overall health and quality of life and relationships Develop psychological tools to neutralize ongoing stressors and live more fully Navigate a mental health care system that is unequal
It's past time to take Black mental health seriously. Whether you suffer yourself, have a loved one who needs help, or are a mental health professional working with the Black community, this book is an essential and much-needed resource.
Available in digital and physical formats. Check availability in our online catalog!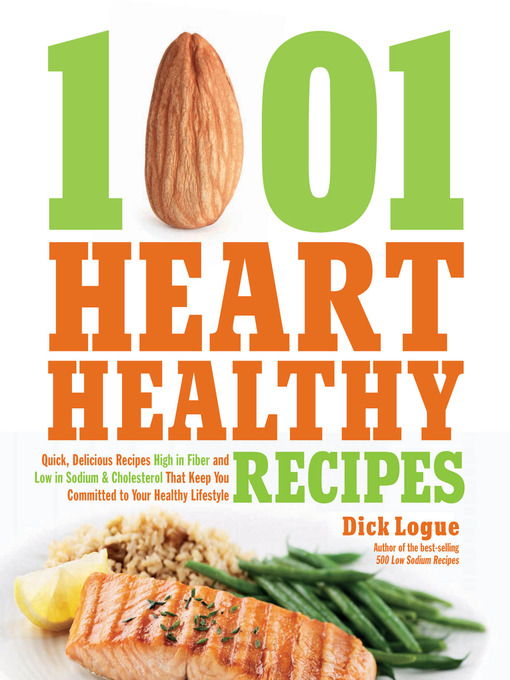 by: Dick Logue
A compilation of Dick Logue's two popular books, 500 High-Fiber Recipes and 500 Low-Cholesterol Recipes, 1,001 Heart Healthy Recipesbrings youall the nutritious recipes you could ever need for maintaining a healthy lifestyle, from light and fresh main dishes to guilt-free snacks and desserts. Whether you're following a low-cholesterol diet based on the doctor's order, or simply just looking to eat healthier and drop a few pounds, 1,001 Heart Healthy Recipes gives you limitless options for delicious, easy-to-prepare meals, including recipes for foods you thought you had to give up forever, such as Deep Dish Pizza, Enchiladas, and Devil's Food Cake. With fast-and-fresh choices at your fingertips, staying the heart-healthy course is easier than ever!

Available in digital formats. Check availability in our online catalog!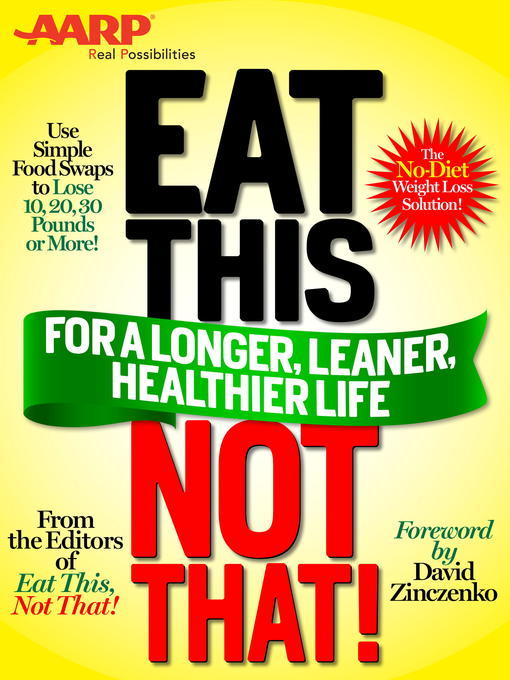 Eat This, Not That! for a Longer, Leaner, Healthier Life!
Don't diet, don't sacrifice, and don't waste money or time on expensive weight-loss foods. In fact, you can start dropping pounds today while eating all your favorite foods—from pizza and pasta to burgers, and even dessert.
From the editors of the bestselling series Eat This, Not That! comes a unique diet program that strips away added sugars and melts fat—from your belly first. The trick: a series of simple swaps that will ensure you're eating the very best options from your favorite restaurants and grocery store brands. Discover how easy it is to indulge your way to a flat belly while protecting your brain and striking a blow against heart disease, diabetes, and more.
Available in digital formats. Check availability in our online catalog!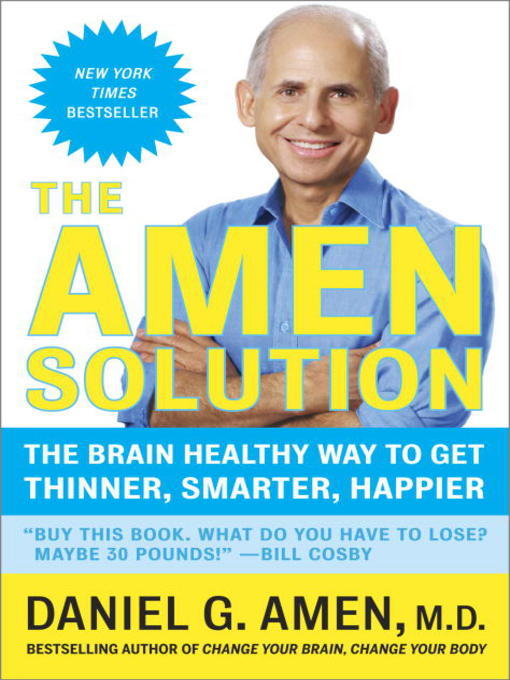 by: Daniel G Amen
In The Amen Solution bestselling author and brain expert Dr. Daniel Amen shares his one-of-a-kind brain-based program that helps you lose weight, improve your memory, and boost your mood at the same time. This is the same program offered at the world-renowned Amen Clinics that has already helped thousands of people lose the love handles and muffin tops. Based on the most up-to-date research, Dr. Amen shows you how to
* Determine your individual brain type so you can find the plan that will work for you
* Say goodbye to emotional overeating to shed pounds
* Curb your cravings and boost willpower
* Improve your brainpower, memory, and mood
* Make small lifestyle changes that have a huge impact on weight loss
* Prepare easy, delicious brain-healthy meals
Packed with insight, motivation, and everything you need to get started right away, The Amen Solution will help you lose unwanted weight and teach you the strategies to keep it off for a lifetime.
Available in digital and physical formats. Check availability in our online catalog!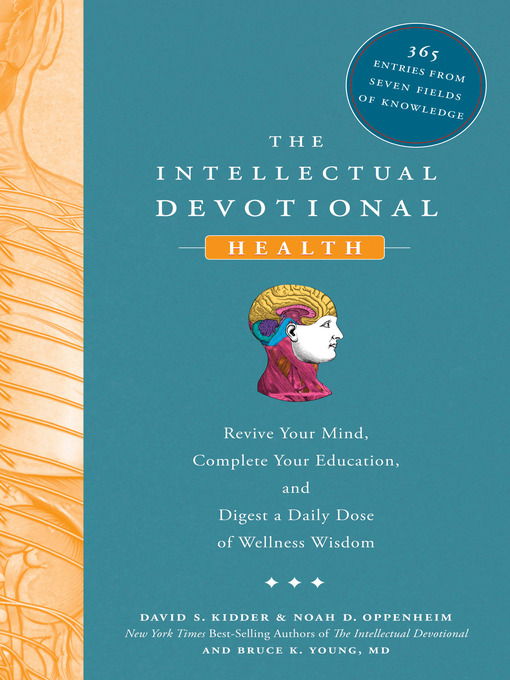 Health: Revive Your Mind, Complete Your Education, and Digest a Daily Dose of Wellness Wisdom - The Intellectual Devotional
by David S. Kidder and Noah D. Oppenheim
In the fourth installment of the New York Times best-selling Intellectual Devotional series, authors Noah Oppenheim and David Kidder have partnered with Bruce K. Young, MD, to offer a year's worth of medical knowledge and wellness wisdom. Each daily dose in this infectious volume offers insight into the mysterious terrain of the human body and the factors that impact its constitution.Drawn from seven diverse categories, including lifestyle and preventive medicine; the mind; medical milestones; drugs and alternative treatments; sexuality and reproduction; diseases and ailments; and children and adolescents, these 365 entries are as informative as they are functional. From aspirin to the x-ray, headaches to Hippocrates, Viagra to influenza, The Intellectual Devotional Health will revive the mind and rejuvenate the body. Sure to please devoted intellectuals and newcomers alike, this timely volume sheds new light on an endlessly fascinating subject: ourselves.

Available in digital formats. Check availability in our online catalog!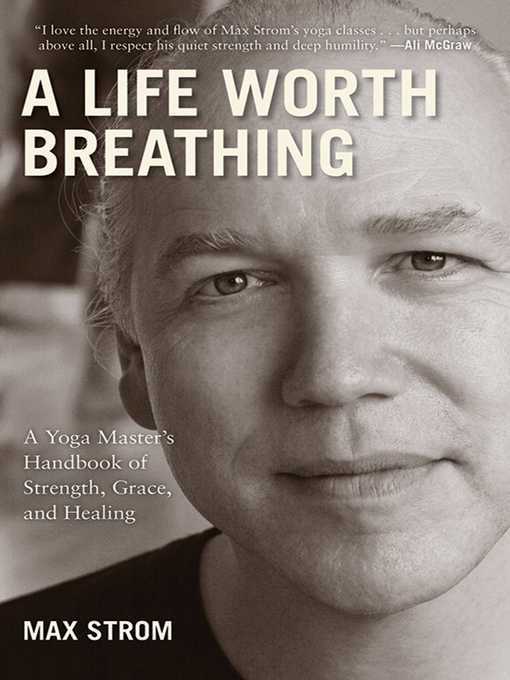 A Life Worth Breathing: A Yoga Master's Handbook of Strength, Grace, and Healing
by Max Strom

A Life Worth Breathing teaches us how mindful breathing, in tandem with the physical practice of yoga and spiritual practice of meditation, raises us to a more powerful level of awareness. Max Strom's groundbreaking book reaches past expected dogma in language that is inspired and accessible. With exercises to help readers identify and achieve intentions, and anecdotes and analogies to bring the practice to life, this book will lead you to the loving and peaceful power of the universe and allow you to fully awaken to your highest human consciousness.

Available in digital formats. Check availability in our online catalog!

Click here to return to the Virtual Programming & Activities page.