What is a Book Match?


Book Match is a
free

library "subscription" service!

Each month, our librarians will pick two items of your format preference (book, Large Print, audio, etc.) chosen just for you based on your reading or listening preferences – along with a goodie or two!

Your Book Match will be placed on hold for you to be picked up at your preferred location (lockers, drive-up window, holds shelves, etc.).

Book Matches will be available for pickup on the 15th of every month.

Simply return your Book Matches with your feedback and preferences for next time, and we'll continue to provide you with tailored titles each month!

Book Matches must be returned before you can receive the next month's subscription.

Contact us to cancel anytime – there is no commitment, and no fee!

To sign up or for more information, please call (765) 641-2456 or visit the Public Services Desk at the Main Library.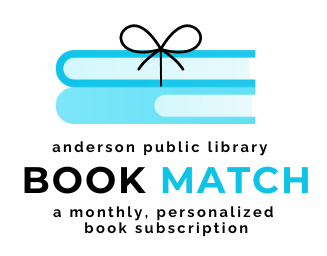 Book Match Request Form

Please fill in as much information as you wish, keeping in mind that the more information you provide the better chance our librarians will have of matching you with authors and titles you may enjoy. Leave fields blank if you have no preference. We will respond via your contact preference. Please allow 2-3 business days for a response.